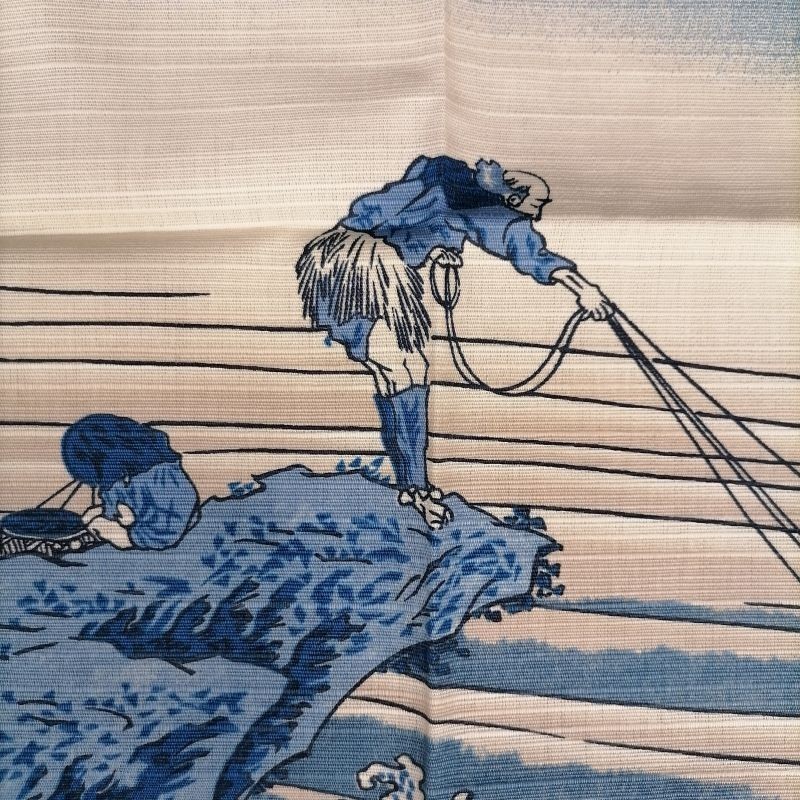  
Furoshiki 50cm Hokusai "Fisherman"
Fisherman of Hokusai.
Japanese traditional square cloth for wrapping. As a lunchcloth, bandana or you may use for decorate a wall.
Product Details
Dimensions : 48 x 48 cm (18.9″ x 18.9″).
Weight : 44 g.
Material : 100% cotton.
Made in Japan.
Gift Wrapping (Lunch Box etc..)
Product Description
Kajikazawa in Kai province / Hokusai
This is considered to be one of Hokusai's masterpieces. The composition is organized by the careful repetition of two triangular shapes. The fishing lines and the promontory form a triangle which echo the other one formed be out line of Mt.Fuji.
Ukiyo-e
Ukiyoe is one of the traditional arts of Japan. having a great influence overseas in the late 1900s.
This series of 50cm square patterns is taken from the world of Ukiyoe.
The material can be used as a book cover, small size bottle holder or wrapping to gift.
The design will give a New face to any object that is being wrapped.
A new design is "KurofujI" from the famous artist HOKUSAI.
There are 4 type of Mt.Fuji.
Please enjoy the visions of Japanese scenery from the Ukiyoe world.
14 other products in the same category: